My boats are based on construction methods that have been used for thousands of years. We are now using modern materials but the basic methods or construction have not changed. My boats do not us any glue or epoxy to hold them together. My frames are built using a fuselage style, much like airplane construction.
My boats do not us any glue or epoxy to hold them together. The frames are cut from marine plywood and the stringers are made from lightweight woods and lashed together with artificial sinew. A synthetic fabric skin is sewn over the frame, shrunk,waterproofed and becomes a structural member of the boat. This method makes an strong, durable and very lightweight boat.



Building a Kudzu Craft boat

Would like to see what is involved in building one of my boats? I created this short video that walks you through the steps involved in building a boat. It will not show you details but it will give you an overview of what you can expect.



Oh yea, they are tough

Contrary to their delicate looks, SOF boats are very tough and durable. I have run mine upon many rocks, across submerged logs, stumps and tree limbs and I have yet to make more than a small mark on the hull.

This video shows you just how tough they really are. It takes a lot more than hitting a rock, stick or some other object in the water!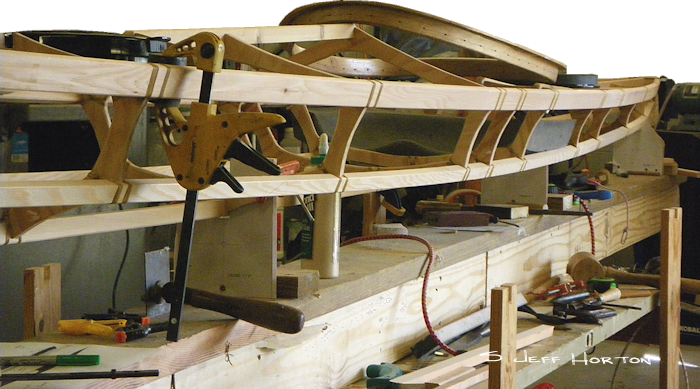 Sling Shot frame under construction
---
WHAT'S NEW?



KAYAK BUILDING CLASSES

I have wanted to do this for a long and I am now offering to come to your location and teach you how to build my boat designs. Classes are typically 8 days long and at the end, you will take home your new boat.

At the moment I don't have class room space, so I prefer to partner with groups and organizations that have space to hold such an event and that can help promote the class. If your group is interested in holding a class contact me and we can discuss the details.

You can find more information the Classes page.




Custom Built Boats are available. I have retired my Appraisers License to concentrate more time on my boats. I can now offer you my boat building skills to craft you a new boat. If you are interested, you can find more information on this page. I will be happy to work with you and build a boat just for you.

Drop-In Rowing unit

Plans are now available for a sliding seat unit you can build yourself. Plans include scaled, dimensioned drawings for the frame and full size patterns for the outrigger forms. The outriggers are made from several layers of thing stock, laminated together or a form. You will need moderate woodworking skills and a bunch of clamps to build this.




MY NEW BOOK IS OUT
More Fuselage Frame Boats

A new book with a new style of boats. Open boats such as Crawfish, a two person Pirogue. Two rowing boats; Matilda, a faster recreational rower and Flyfisher, a smaller rowing boat intended for more leisurely pursuits. Both of these designs feature varnished wood transoms.

There are only two kayaks in this book. The Mess About 12, a short and wide recreational kayak with a large cockpit. The other, a Kids kayak named Tadpole, that is styled to look like Mom and Dads boat.

If your interest is in longer kayaks my first book, Fuselage Frame Boats will probably be more to your liking.

Included are metric offsets for the different boats too.

You can purchase an autographed copy in our store.

---